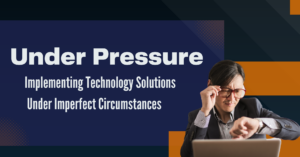 You know that song "Under Pressure" with David Bowie and Freddie Mercury? It's a fantastic song, and often I find myself resonating with the line, "These days it never rains, but it pours." There always seems to be something. A pandemic, increased competition, new technological advancements, economic uncertainty: I could go on. 
When the pressure is on, implementing organizational changes and technology solutions can become the thing that keeps your business going. I talk a lot about how in an ideal world, you take your time with these kinds of changes. You develop your systems, you talk with your team, and you build a plan – but sometimes, ok, often,  you just don't get that option.
Believe it or not, there are best practices for situations like this. When the plane is on fire, you may have to MacGyver a parachute out of spare parts and take a leap of faith, but the key is ensuring you have the parts you need to make a parachute. 
When faced with a crisis, it's crucial to have the right resources and strategies in place to navigate through it. More specifically, a business must balance being prepared for unexpected challenges and maintaining the flexibility to adjust and adapt to these challenges. Today, I'm talking about best practices for implementing technology solutions under imperfect (and sometimes rushed) circumstances, and we've got a great example of a non-profit organization that did exactly that.
Promises2Kids
For over 35 years, Promises2Kids has tirelessly worked to create a brighter future for thousands of children in San Diego County. From infancy to adulthood, they give them the tools they need to overcome their challenges. They support these children through various programs, two of which stand out: the Guardian Scholars and Camp Connect. The Guardian Scholars program provides college preparation, SAT courses, and unique college-level courses for high school students. Camp Connect, on the other hand, is a unique program that allows siblings living apart in foster care to reconnect and support each other.
Most of what Promises2Kids did was built around face-to-face interactions. It was vital to building strong and supportive relationships. So, when Covid-19 hit, they suddenly found themselves caught between keeping the volunteers and children safe, avoiding an interruption to their services, and maintaining operational integrity. Suddenly, the pressure was on. 
Building the Plane While Flying It
Before the world had even heard of Covid-19, Promises2Kids had already begun updating their systems by moving them to Salesforce, a powerful technology platform. They had already started to implement it to assist with their philanthropic work. However, they hadn't yet begun setting it up as a full-blown operational management tool.
Then, the pandemic hit. Suddenly, the way they had always done things was no longer possible. Face-to-face interactions, a cornerstone of their operations, had to be minimized for safety.  But the needs of the children didn't pause during the pandemic. If anything, they increased. They did everything they could to adapt, but it wasn't long before they realized they needed to set up Salesforce as an operational tool and introduce it to their team. More importantly, they had to figure out a way to do it without major operational interruptions. 
During the Covid-19 pandemic, we witnessed devastating impacts on businesses and non-profit organizations. Over a hundred thousand of these entities permanently closed their doors due to similar circumstances, resulting in the loss of nearly 1.2 million jobs. These are tough numbers to swallow, but I bring them up because it makes the success of Promises2Kids all the more remarkable. How did they implement organizational changes under intense pressure without interrupting their day-to-day operations? For Promises2Kids, the answer came in two parts. 
Identifying Your Adaptable Team Members
One of the biggest challenges when implementing a new technology solution, under any circumstances, is that there will always be team members who are inherently resistant to change. This isn't a bad thing, necessarily – as these are more often the team members who perform strongest when they have a comfortable routine and a deep understanding of the systems in place. 
But chances are that you have some team members who love change. Often, these will be the first to volunteer to learn a new system, try new methods, or experiment with new methods. Promises2Kids identified these team members as volunteers to be the first to learn Salesforce. The volunteers acted as leaders in the implementation effort. They called these their "Trailblazers." In many ways, this implementation team was the key to their success. 
Why? Let's take a look at one study conducted by researchers from the Imperial College London. They found that for new medical technologies to be implemented successfully, doctors needed to take ample time to learn that new tech. If they didn't get the time they needed to learn it, they stopped using it. I bring this study up because it's a great example of how, even in the most urgent circumstances with trained professionals, implementing changes requires time. 
But Promises2Kids didn't have time. They couldn't put their operations on hold because they had children who needed their help at that very moment. 
By implementing the Trailblazers, Promises2Kids ensured that the team could implement the new technology without interrupting operations because only a few key members needed to learn the technology inside and out. Those team members figured out how to support the youth remotely, how to communicate effectively within the team, and how to maintain the 'water-cooler meetings' that are so important for team cohesion. They mastered the nuances of Salesforce and then passed on their understanding to the rest of the team.
No halt in operations was needed. Instead, Salesforce was folded into their existing processes. This brings us to my next point…
Having a Solid Foundation
Change shakes even the most stable of foundations. When we look at examples of failures, such as Blockbuster's failure to adapt to streaming, or Sears' failure to adapt to the internet age, it becomes clear that flexibility is a key factor that helps businesses survive catastrophic change.
Promises2Kids, by the nature of what they do, is a malleable organization. However, malleability is not the only thing that makes a business successful. 
In our podcast, The Business of Non-Profits, Stephanie Ortega, the COO of Promises2Kids, discussed some of the fundamental groundwork they laid before the onset of the Covid-19 pandemic. Stephanie and her team had been working for months prior by establishing systems, attending a Salesforce conference, and getting to the bottom of how their non-profit organization operated. In the Podcast, Stephanie makes a great point about this. She says that in the beginning, everyone could do some of everything. There wasn't a need for policy or procedure. As they grew – they realized everything needed to come out of their heads and be put down on paper. 
She also admits that this process wasn't easy. But it is necessary to ensure that your company can stand independently even in the face of a challenge like Covid-19. 
Possible, But Not Preferable
I say it all the time – in an ideal world, implementing a new technology solution and integrating it with your existing systems should be well-considered and thought-out. You should develop an implementation plan and take the time to discuss it with your team and view it from all angles. This doesn't have to take years of thought and decades to implement. Good, sustainable technology solutions can happen quickly, and without duress provided we plan well. But sometimes, there's not as much time to develop that plan as we would hope.  If implementing sudden and necessary changes under great duress is unavoidable, then the way Promises2Kids handled it is a great example. 
Their organization had the flexibility to bend, not break, under the sudden pressure, and their systems and organizational tools in place to continue running smoothly as they adapted to their new situation. If you ask Stephanie Ortega, they still have a lot of work to do on this front. But my experience is that when it comes to ensuring your business systems are up-to-date, adaptable, and efficient, the work never really ends. 
Tiffany Rosik is the Founder and CEO of TGR Management Consulting, a company specializing in implementing technology strategies for Fortune 1000 companies and non-profit organizations alike. Tiffany goes beyond project best practices by coaching Project Team Leaders on team dynamics and techniques to establish a self-sustaining model that creates a consistent experience and produces results. Visit Tiffany's Website or Connect with Tiffany Rosik on LinkedIn.